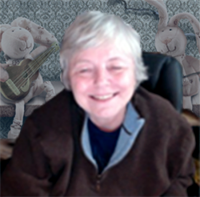 In 2004, Carol Johnson started Fine Line Web Design, LLC as an artist to combine her talent and passion for art, computer and computer graphics.
Over 10 years as Senior Systems Programmer in advanced development at Unisys, a major computer corporation.
A strong background in art, graphic design and computer programming comes together to create a unique website for you.  We are able to vary the design to capture any mood or theme with original graphics.
We use the latest Adobe's Creative Cloud software.  Always looking to enhance the experience for our client and their customers.  Striking visual effects, custom graphics, cartoons, animations, 3D design are used as needed.
Professional and Proficient
Fine Line Web Design, LLC creates websites with custom graphics for their customers.  Custom graphics lets you stand out from all the cookie cutter websites on the Internet.  Although websites are the main focus, we offer custom graphics for print as well.
Customer satisfaction is our goal.  We support what we create.  We devote time to reach the goals of our customers.  
Sincerely,
Carol Johnson
Best of 2015 and Best of 2016 – Graphic Designers in Minneapolis by Thumbtack.
2015, 2nd Place in Art of Possibilities, and International art competition – in Mixed Media.
1999, 1st Place Watercolor in International Art Show.  Competition from 300 watercolor artist from 32 states and 6 countries.
"Dogwaffler of the Moment" on The Best 3D website.